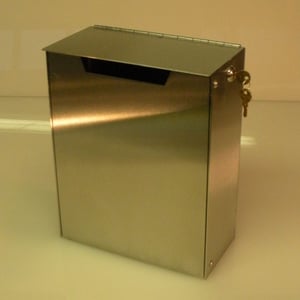 $

380.00
Model 10-13 Modern Stainless Steel Locking Wallmount Mailbox
Sold out.
The 10-13 Mailbox is a thoroughly modern design.
Features:
All Stainless Steel Construction.
Lock is not seen from the front for a cleaner look.
One-Handed mail retrieval.
12 gauge 304 grade stainless steel (At least twice as thick as many competitors, almost three times as heavy as mass produced from the big guys)
Will last a lifetime even in saltwater conditions.